KombiVan
Camping boxes from the KombiVan series are designed for cars with this type of body (KombiVan).
In the BASIC version we will get a fold-out bed frame, pull-out table and mattresses.
Tthe PREMIUM version is enriched with additional equipment in the form of a kitchen drawer and a water system.
Camping boxes come in different widths, which allows for a perfect fit to most KombiVans available on the market.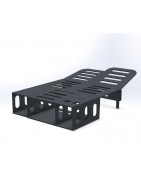 €1,999.00
-€100.00
€1,899.00