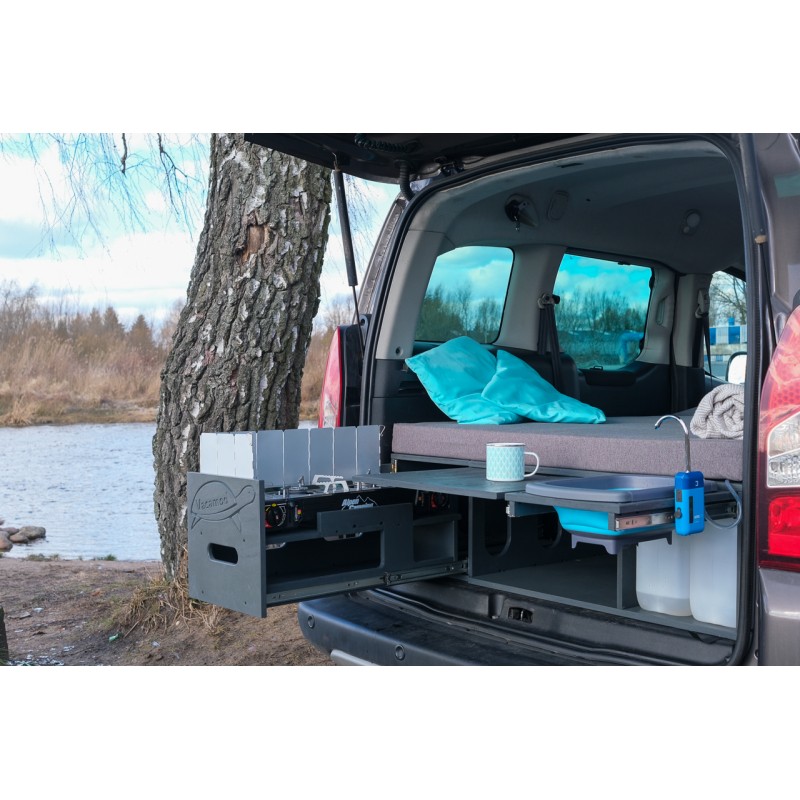  
Van/Bus Camping box Vacamod
Attention! Orders will be processed from January 2020.
Vacamod camping system is a box which put in the trunk of a car, turns it into a mini-camper within a minute. During the trip, it serves as a storage space, a fold-out double bed, table and seats, a water storage and a fully functional kitchen - ready to use right away, wherever you are.
Vacamod camping box, type Van/Bus fits all cars where the narrowest place (between the rear wheel arches) is a minimum of 119/124/138 cm wide and have a minimum of 200 cm of flat floor measured from the trunk door to front. The set includes 12 lifters (18 mm high) which will allow to level the box if seats assembly protrude above the floor. If protruding elements are higher than 18 mm, please let us know in your order - in that case we send additional set of lifters.
If you are not sure if this set will fit your car - send a message or give us a call :)
To simplify the carrying and installation of camping box in the car, the Vacamod Van/Bus construction consists separate parts:
1. base box with dimensions depending on the version:
119x79x33cm/124x79x33cm/138x79x33cm
2. two side boxes (seats) with dimensions: 34x120cm
3. table top with dimensions depending on the version:
48x120cm/53x120cm/67x120cm
4. two easily assembled table legs
5. a kitchen drawer
6. draw out table top

After folding the table we get full-size bed with dimensions of 119x200cm/124x200cm/138x200cm.
In addition, the set includes:
• two-burner stove
- powered by standard cartridges with a capacity of 227g - allowing for about 2-3 hours of continuous using the burner
- each burner has an automatic sparker
- smooth regulation of the flame
- portable (possibility of using the oven outside the camping box)
- express cartridges replacement
- ATTENTION. If the oven is not in use, the burners must be disconnected from the cartridges. It can be done removing the cartouches from the stove - there are two independent disconnecting switches.
• two cartridges 227g
• 3 mattresses
• 3 removable mattresses covers
- the fabric is easy to keep clean
- limited absorption of liquids
- resistant to abrasion and sunrays
- Recommended cleaning method: Cleaning only with mild upholstery care products. Do not wet wash. Do not iron. Do not bleach.
• water tank
- 20l capacity
- tap with flow regulation